What You'll Eat
Our low-GI based programme centers on food quality, because wholesome food produces lean, energetic people. Controlling the GI of your foods can promote normal blood-sugar levels, which enables the body to stay in a fat-burning mode. By changing your diet with TLS you will feel energised, alert and productive.
Menu Plans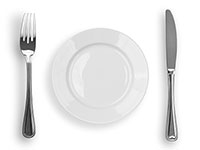 Another feature we offer is customised eating plans. These plans use your
Weight Management Profile
to determine the best plan of action for your weight management journey. We offer a number of different plans, such as the
Rapid Results plan
, which is best for those who want to lose weight, fast. It also features the
Sure & Steady plan
, ideal for those wanting to make gradual lifestyle changes to reach their goals.
Apart from our menu plans, we also supply useful how-to guides for healthy eating, shopping smart, dining out, making grocery lists and more. Find fresh tips and ideas for cooking and snacking daily.
Meal Planning Success
Find a meal plan that works for you
Our comprehensive dietary educational programme is customised by you to ensure a perfect fit for your unique lifestyle. With a wide variety of food options, you'll never be at a loss for ideas or selection. The only thing you'll be losing is pounds. We even supply printable grocery lists to help you successfully navigate grocery aisles, avoiding those fatty crisps.