Heart Health Essential Omega III Fish Oil With Vitamin E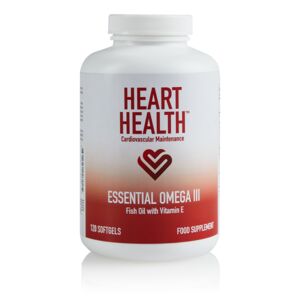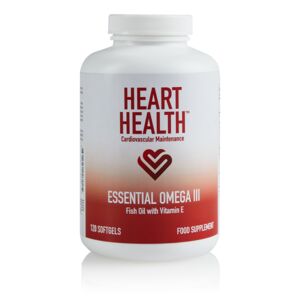 £68.00 GBP
VAT of £11.33 GBP included
3.40
Single bottle (60 servings)
SKU: UK13854
Benefits
---

EPA and DHA contribute to the normal function of the heart
DHA contributes to maintenance of normal brain function
DHA contributes to the maintenance of normal vision
The European Food Safety Authority (EFSA) suggests that the daily intake of 3g of EPA and DHA may contribute to the maintenance of normal blood pressure. (Equivalent to a daily intake of 2 softgels twice a day)*
The EFSA also suggests that the daily intake of 2g of EPA and DHA may contribute to the normal blood triglyceride levels (Equivalent to a daily intake of 3 softgels)*
Each daily serving provides 3000mg of fish oil to supply 900mg of EPA and 600mg of DHA
Ideal for those who do not eat as much fatty fish
A high quality, high purity product using small fish which are less likely to accumulate toxins
Product is Gluten Free and Non-GMO
No artificial colours, flavours or preservatives added
Our Fish oil meets standards set by the European Union (EU)
Beneficial effects are obtained with a daily intake of 250mg of EPA and DHA according to the European Food Safety Authority's Scientific Opinion.
*Consult your healthcare provider before increasing your daily intake dose.
Consumers should not exceed a supplemental daily intake of 5g of EPA and DHA combined.
Product Classifications
---
Gluten-Free - The finished product contains no detectable gluten (<10ppm gluten)
No Detectable GMOs - The finished product contains no detectable genetically-modified organisms
Quality Standards - GMP Operations and Standardised Ingredients
Checked For: Heavy Metals, Microbiological Contaminants, Allergens, Potency, Purity and Identity
Why Choose Heart Health Omega Essential Omega Fish Oil With Vitamin E?
---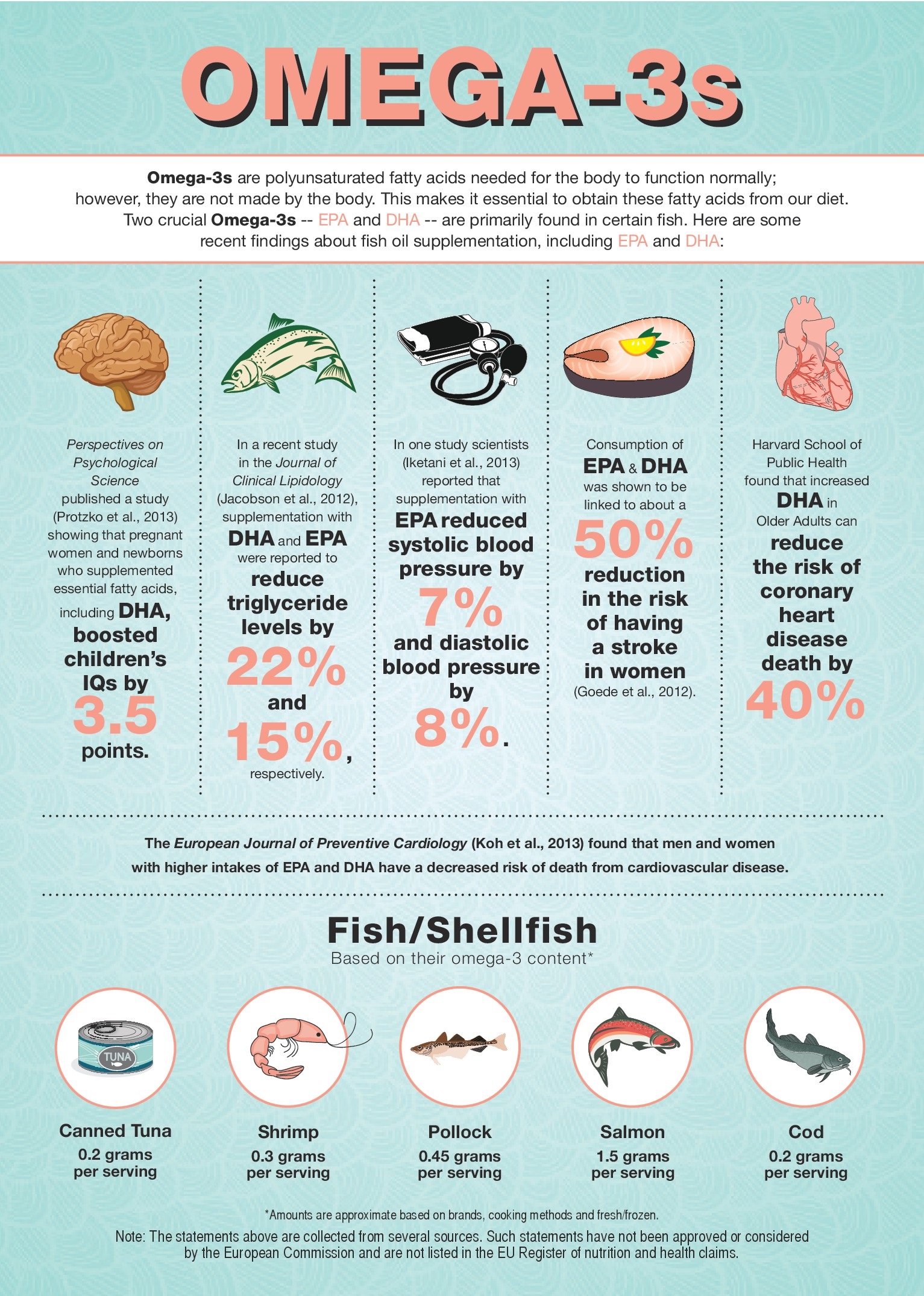 Heart Health Essential Omega III with Vitamin E is a superior product due to a number of factors. The best fish are used in producing a clean and safe product that is rich in eicosapentaenoic acid (EPA) and docosahexaenoic acid (DHA). Heart Health Essential Omega III comes from small fish where other competitive products use large fish that are more likely to accumulate toxins. Heart Health Essential Omega III provides a high quality, high purity product with significant percentages of the health promoting EPA and DHA.
The fish oil in Heart Health Essential Omega III with Vitamin E comes from sardines and anchovies that have a short lifecycle, making them an ideal source of fish oil because they are less prone to accumulating environmental toxins that can be found in larger, longer-lived fish. Contaminants are generally extremely low in sardines and anchovies even before they go through an intense purification process. Every batch of fish oil is tested prior to processing by our manufacturer and must pass more than 200 quality checks during the production process.
In an article published in The American Journal of Clinical Nutrition, the effects of Omega-3 Fish oil supplementation were shown to be beneficial for healthy cognitive and cardiac functioning. The study shows that supplementing with fish oil daily can rapidly raise the levels of EPA and DHA in cardiac tissue. This is important because both EPA and DHA have been shown to help maintain normal heart function. This study also showed an inverse relationship between EPA/DHA and arachidonic acid (AA), an omega-6 fatty acid. As EPA and DHA increased in atrial (heart tissue) phospholipids, AA decreased.1
Heart Health Essential Omega III Fish Oil with Vitamin E provides 900mg of EPA† (eicosapentaenoic acid) and 600mg of DHA† (docosahexaenoic acid) which studies have shown to be the most effective in promoting overall cardiovascular health.
An unhealthy diet of processed, high-calorie, high-fat foods, pollution, smoking and sedentary lifestyles all contribute to poor heart health. Not smoking, maintaining a healthy weight, eating a diet rich in fruits, vegetables and whole grains, exercising regularly and taking the right supplements can all contribute to promoting good cardiovascular health.
Metcalf, R., James, M., Gibson, A., Edwards, J., Subberfield, J., Stuklis, R., Roberts-Thomson, K., Young, G., and Cleland, L. Effects of fish-oil supplementation on myocardial fatty acids in humans. The American Journal of Clinical Nutrition; May 2007; Volume 85; Issue 5
Key Ingredients
---
Fish Body Oils [EPA† 900 mg and DHA† 600 mg]
Fish oils or marine oils, are lipids (fats) found in fish, particularly cold water fish like herring, kipper, mackerel, menhaden, pilchard, salmon, sardine, trout, and phytoplankton. The sources of fish oil in Heart Health Essential Omega III Fish Oil are sardines and anchovies, tested by the manufacturer and an independent testing company to be virtually free of mercury lead, PCB and other heavy metals. Fish oils are rich sources of omega-3 long-chain polyunsaturated fatty acids. EPA (eicosapentaenoic acid) and DHA (docosahexanenoic acid) are the two most studied fish oils. DHA is a necessary component of the phospholipids in human cellular membranes, especially those found in the brain and retina.
Omega-3 fatty acids compete metabolically with omega-6 fatty acids, found in higher amounts in typical western diets. Omega-6 fatty acids may inhibit the incorporation of omega-3 fatty acids into tissue lipids. Omega-3 fatty acids may inhibit the conversion of many omega-6 fatty acids into arachidonic acid. Consumption of omega-3 fatty acids DHA and EPA, corresponds with an increase of these fatty acids in cell membranes and circulatory lipids along with a simultaneous reduction in omega-6 fatty acids.
Vitamin E (d-alpha tocopherol)
The most valuable sources of dietary vitamin E include vegetable oils, margarine, nuts, seeds, avocados and wheat germ. Safflower oil contains large amounts of vitamin E (about two thirds of the RDA in ¼ cup) and there are trace amounts in corn oil and soybean oil. Vitamin E is actually a family of related compounds called tocopherols and tocotrienols. For those individuals watching their dietary fat consumption, vitamin E intake is likely to be low, due to a reduced intake of foods with high fat content. The main benefit of Vitamin E comes from its antioxidant activity.
Frequently Asked Questions
---
What exactly is cardiovascular health?
The term cardiovascular health (also referred to as heart health) is used to describe a cardiovascular system that is strong and in good physical condition. By leading a more healthful lifestyle and through proper supplementation, you can significantly increase your chances of maintaining good cardiovascular health.

What does lifestyle have to do with heart health?
There are simple, everyday things you can do to help maintain proper heart health. Among these are:
Not smoking.
Maintaining a healthy height-to-weight ratio.
Eating a diet rich in fruits, vegetables and whole grains.
Limiting the consumption of total and saturated fat.
Exercising regularly.
Working with your physician to monitor cholesterol, blood pressure, homocysteine and C-reactive protein levels.
Starting a complete nutritional supplementation programme designed to help maintain proper cardiovascular health.

Is the fish oil tested for heavy metal contamination?
Yes. The fish oil used in Heart Health Essential Omega III is tested by a third party laboratory for arsenic, cadmium, lead and mercury. The fish oil must meet or exceed quality standards set by Canada (CFIA), the European Union (EU) and the United States (CRN).

Is this product vegetarian?
No. This product contains gelatin and fish oils.
Science
---
Bhargava R, Kumar P, Phogat H, Kaur A, Kumar M. Oral omega-3 fatty acids treatment in computer vision syndrome related dry eye. Cont Lens Anterior Eye 2015; 38(3):206-10. doi: 10.1016/j.clae.2015.01.007.
Bonaa, KH, et al, Effect of eicosapentaenoic and docosahexaenoic acids on blood pressure in hypertension. A population-based intervention trial from the Tromso study. N Engl J Med 322(12):795-801 (1990)
Cakiner-Egilmez T. Omega 3 fatty acids and the eye. Insight 2008; 33(4):20-5.
Chan JK, et al, Dietary alpha-linolenic acid is as effective as oleic acid and linoleic acid in lowering blood cholesterol in normolipidemic men. Am J Clin Nutr 53(5):1230-1234 (1991)
Garrido A, et al, Ingestion of high doses of fish oil increases the susceptibility of cellular membranes to the induction of oxidative stress. Lipids 24(9):833-835 (1989)
Georgiou T, Prokopiou E. The New Era of Omega-3 Fatty acids supplementation: therapeutic effects on dry age-related macular degeneration. J Stem Cells 2015; 10(3):205-15.
Howe PR. Dietary fats and hypertension. Focus on fish oil. Ann NY Acad Sci 827:339-352 (1997)
Knapp HR, FitzGerald GA. The antihypertensive effects of fish oil. A controlled study of polyunsaturated fatty acid supplements in essential hypertension. J Engl J Med 320(16):1037-1043 (1989)
Kris-Etherton PM, et al, fish consumption, fish oil, omega-3 fatty acids, and cardiovascular disease. Arterioscler Thromb Vasc Biol 23(2):e20-e30 (2003)
Leslie MA, Cohen DJ, Liddle DM, Robinson LE, Ma DW. A review of the effect of omega-3 polyunsaturated fatty acids on blood triacylglycerol levels in normolipidemic and borderline hyperlipidemic individuals. Lipids Health Dis 2015; 14:53. doi: 10.1186/s12944-015-0049-7.
Madsen T, Skou HA, et al, C-reactive protein, dietary n-3 fatty acids, and the extent of coronary artery disease. Am J Cardiol 88:1139-42 (2001)
Mohajeri MH, Troesch B, Weber P. Inadequate supply of vitamins and DHA in the elderly: implications for brain aging and Alzheimer-type dementia. Nutrition 2015; 31(2):261-75. doi: 10.1016/j.nut.2014.06.016.
Morris MC, et al, The effect of fish oil on blood pressure in mild hypertensive subjects: a randomized crossover trial. Am J Clin Nutr 57(1):59-64 (1993)
Morris, MC, Sacks F, Rosner B. Does fish oil lower blood pressure? A meta-analysis of controlled trials. Circulation 88(2):523-533 (19930
Nestel PJ. Fish oil attenuates the cholesterol induced rise in lipoprotein cholesterol. Am J Clin Nutr 43(5):752-757 (1986)
Ras RT, Demonty I, Zebregs YE, Quadt JF, Olsson J, Trautwein EA. Low doses of eicosapentaenoic acid and docosahexaenoic acid from fish oil dose-dependently decrease serum triglyceride concentrations in the presence of plant sterols in hypercholesterolemic men and women. J Nutr 2014; 144(10):1564-70. doi:10.3945/jn.114.192229.
Rigelsky, JM, et al, Hawthorn: pharmacology and therapeutic uses. Am J Health Syst Pharm 59:417-22 (2002)
Skulas-Ray AC, Flock MR, Richter CK, Harris WS, West SG, Kris-Etherton PM. Red Blood Cell Docosapentaenoic Acid (DPA n-3) is Inversely Associated with Triglycerides and C-reactive Protein (CRP) in Healthy Adults and Dose-Dependently Increases Following n-3 Fatty Acid Supplementation. Nutrients 2015; 7(8):6390-404. doi: 10.3390/nu7085291.
Skulas-Ray AC, Kris-Etherton PM, Harris WS, Vanden Heuvel JP, Wagner PR, West SG. Dose-response effects of omega-3 fatty acids on triglycerides, inflammation, and endothelial function in healthy persons with moderate hypertriglyceridemia. Am J Clin Nutr 2011; 93(2):243-52. doi: 10.3945/ajcn.110.003871.
Tsai PJ, Lu SC. Fish oil lowers plasma lipid concentrations and increases the susceptibility of low density lipoprotein to oxidative modification in healthy men. J Formos Med Assoc 96(9):718-726 (1997)
Yurko-Mauro K, Alexander DD, Van Elswyk ME. Docosahexaenoic acid and adult memory: a systematic review and meta-analysis. PLoS One 2015; 18;10(3):e0120391. doi: 10.1371/journal.pone.0120391.
TLS Product Reviews
---
Displaying reviews 1 - 3 of 3
---
love it with vit E, EPA and DHA with small fish
Response from Customer Service:
23/11/2021
Dear Valued Unfranchise Owner,

Thank you for taking the time to share your thoughts on the Heart Health Essential Omega III Fish Oil With Vitamin E! We are happy to hear you are pleased with the product!

Thank you again!
Market United Kingdom Team
---
I love this product, essential for brain and heart health, my family has a history of both, so it's vital I take this product, it's easy to take, and no fishy after taste. 2 a day and adding vitamin e, so doesn't need to be kept refrigerated. It's a win win.
---
Heart Heath Essential Omega111 Fish Oil With Vit E
An amazing product which I have recommended to people.