Isotonix® Daily Essentials Packets
FEATURED RECOMMENDATIONS
Benefits
---
Convenient On-The-Go Packets with Four ESSENTIAL Customer Favourites:
Isotonix OPC-3
One of the most powerful antioxidant support supplement on the market today!
Isotonix Multivitamin
COMPLETE multivitamin and multimineral supplement!
Isotonix Activated B-Complex
BOOST your B Vitamins!
Isotonix Calcium Plus
Essential for maintaining strong bones and healthy teeth!
Convenient, easy-to-use packets that provide the nutrition you need on-the-go
Contains the top four essential supplements in one convenient serving
Packets are ideal to promote long-term health and optimal nutrition
Contains 100 percent or more of most of the recommended daily allowances (RDA) of vitamins and minerals
Contains key phytonutrients like Grape Seed, Red Wine, Pine Bark (Pycnogenol®)†, Bilberry, and Citrus Extracts
Contains essential vitamins including 8 B-Vitamins, various minerals like Calcium
Isotonix formulas are more effective than standard supplements for maximum and faster delivery of ingredients

Isotonix OPC-3
Numerous scientific studies have shown that ingredients found in OPC - 3 may contribute to the maintenance of cardiovascular health, joint health and flexibility, visual health, immune health, blood pressure, antioxidant protection, and blood glucose levels.
Contains Pycnogenol® (French maritime pine bark extract) which is one of the most clinically researched and potent bioflavonoids with more than 120 studies published in peer-reviewed medical journals. *
Pycnogenol is highly bioavailable to the body, making it easily absorbed, according to studies
Contains Grape Seed, Red Wine, Bilberry, and Citrus Extracts, which are rich in polyphenols and bioflavonoids
Polyphenols and bioflavonoids have been scientifically studied and results indicate that they may contribute to the maintenance of overall good health, due to their antioxidant benefits and their support of healthy circulation.
Isotonix Multivitamin
Multivitamin and multimineral formula
Contains 100% or more of the RDA of most essential vitamins and minerals
Supplements dietary deficiency
Contributes to normal immune function
Contributes to normal psychological and cognitive function
Contributes to the protection of cells from oxidative stress (Antioxidant protection)
Supports normal vision
Isotonix Activated B-Complex
Contributes to normal energy-yielding metabolism and reduction of fatigue and tiredness
Contributes to the normal function of the heart
Contributes to the normal function of the nervous system
Contributes to normal psychological functions and normal mental performance.
Isotonix Calcium Plus
Contributes to healthy inflammatory response
Contributes to normal function of bones, teeth, cartilage, gums, skin and blood vessels
Contributes to the maintenance of normal muscle function and neurotransmission
Contributes to normal blood calcium concentrations
Contributes to normal absorption and utilisation of calcium and phosphorous
* For more information visit: www.pycnogenol.com/applications
†Pycnogenol is the registered trademark of Horphag Research Ltd.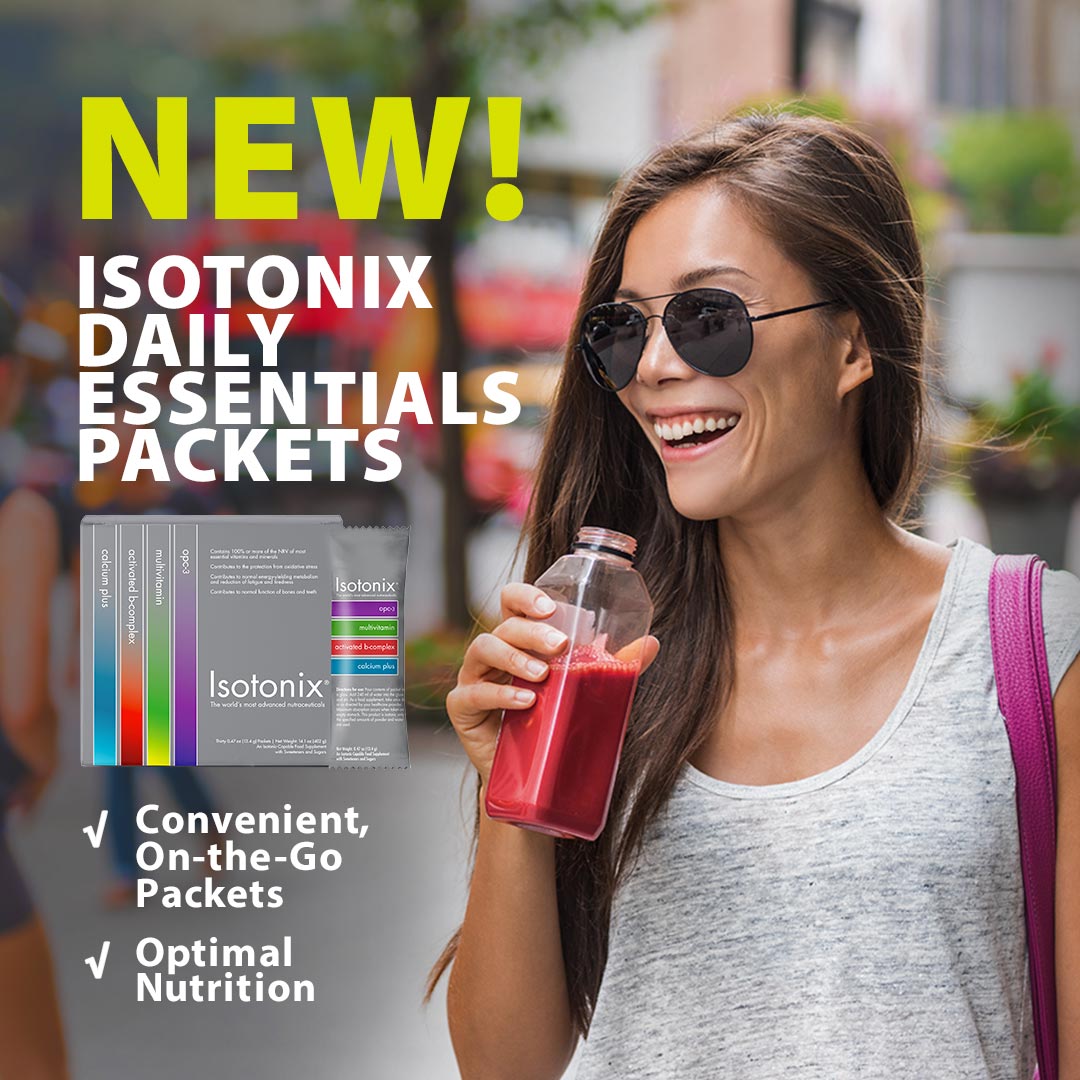 Compare
---
The Isotonix Daily Essentials Packets are the only On-The-Go Packet containing all of these essential ingredients and with the unmatched Isotonix delivery system. It contains Isotonix OPC-3 known for its strong antioxidant properties due to the plant-based ingredients like Pycnogenol® and Grape Seed Extract. The second product is Isotonix Multivitamin to give you the most nutritional supplementation as this formula contains 100% or more of most of the essential vitamins and minerals we need to consume daily. Isotonix Activated B-Complex gives you the boost of essential B-Vitamins to help with our overall health. Lastly, it contains Isotonix Calcium Plus which provides the body with an optimal blend of calcium, vitamin D3, magnesium and vitamin C in an efficient isotonic solution that is readily absorbed by the body for building and maintaining strong bones.
Product Classification
---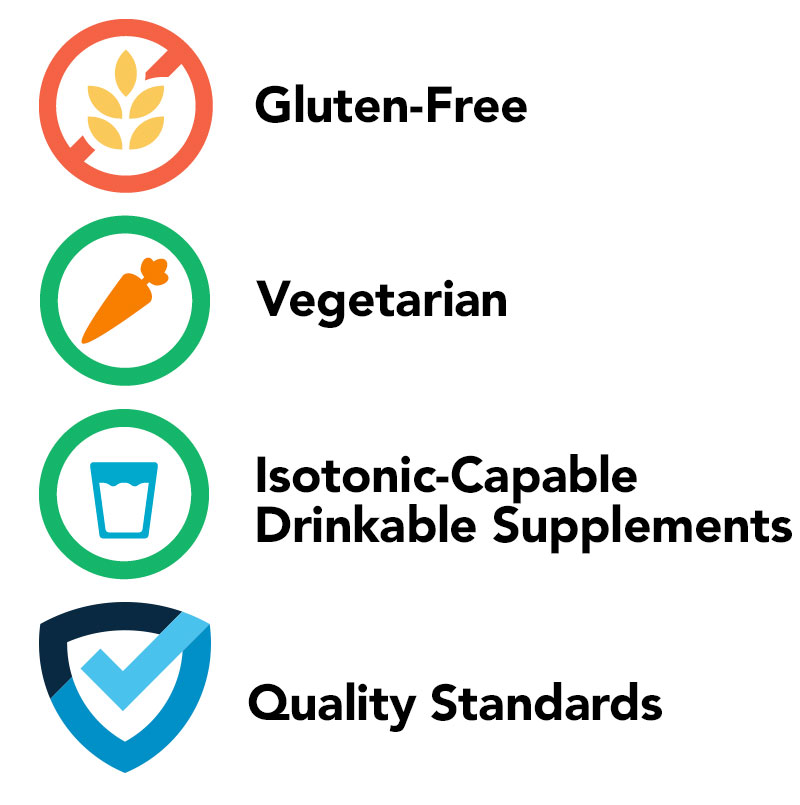 Gluten-Free - The finished product contains no detectable gluten (<10ppm gluten)
Vegetarian - This product is vegetarian
Isotonic-Capable Drinkable Supplements - Easy-to-swallow supplements in liquid form are immediately available to the body for absorption
Quality Standards - GMP Operations and Standardised Ingredients
Checked For: Heavy Metals, Microbiological Contaminants, Allergens, Potency, Purity and Identity
Why Isotonix Daily Essentials Packets are the best!
---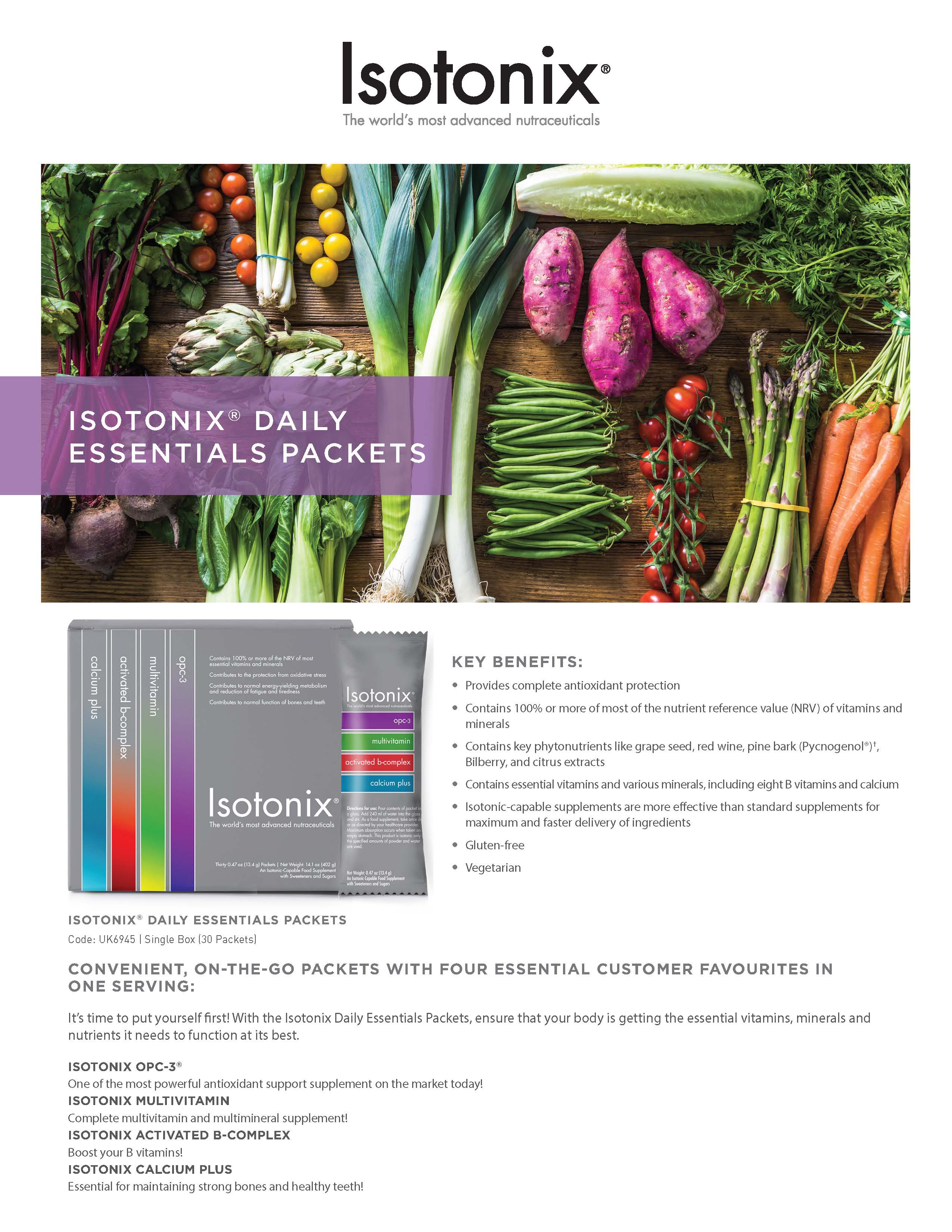 There's nothing more important than taking care of yourself on a daily basis. With the Isotonix Daily Essentials Packets, you can be sure that you're giving your body the essential vitamins, minerals and nutrients it needs thanks to four essential supplements — Isotonix OPC-3, Isotonix Multivitamin, Isotonix Activated B-Complex and Isotonix Calcium Plus — to promote optimal nutrition. And the best part about it is you can take these packets ON-THE-GO!
Caring for your general health starts with Isotonix OPC-3, an isotonic-capable food supplement made from a combination of bilberry, grape seed, red wine, pine bark extracts and citrus extract bioflavonoids. Studies have shown OPCs to be up to 20 times more powerful than vitamin C and 50 times more powerful than vitamin E in neutralising free radicals. Isotonix OPC-3 contains the only isotonic form of Pycnogenol ® in the world.

Next, Isotonix Multivitamin contains vitamins and minerals to help establish a sound micronutrient foundation to complement your diet. With today's fast-paced lifestyles, it is important to ensure the body is getting the fuel it needs. Isotonix Multivitamin supplements dietary deficiencies and helps maintain normal metabolic functioning. Eating a balanced diet is always the ideal, however supplements are handy tools when it is difficult to consume the right amounts of vitamins and minerals on a daily basis.

To provide the eight essential B-vitamins that contribute to your body's metabolism at the cellular level, this kit includes Isotonix Activated B-Complex, which delivers metabolically active forms of vitamins B2, B6, and B12 along with several additional B vitamins and select minerals. By providing the metabolically active forms of these vitamins in isotonic form, you can be certain that your body is getting the vital nutrients it needs quickly and effectively.

Finally, Isotonix Calcium Plus delivers a potent package of calcium and complementary nutrients needed for the maintenance of normal bones. While calcium supplements in tablet form can be difficult for the body to absorb, the unique Isotonix delivery system and the inclusion of beneficial vitamins and minerals — including vitamin D — make Isotonix Calcium Plus more readily bioavailable and easily absorbed by the body.
The video below is designed for institutional purposes only, where its standards were created under USA regulations, therefore, some products may not be available or information may not be in alignment with your country and/or region. These statements have not been evaluated by the Food and Drug Administration (FDA) in USA. This product is not intended to diagnose, treat, cure or prevent any disease. You should consult your physician before beginning this or any other weight-management programme.
This product is sold with at least a 3 month shelf life remaining.
Daily Essentials & The Advantage of Isotonix Delivery
---
Isotonix Delivery System
---
Isotonix® products are isotonic because they match the fluids in your body, which have an almost constant concentration of dissolved particles like salts, sugars and minerals. At this concentration, nutrients and molecules essential for cell metabolism are most efficiently transported through cell membranes.
Your body transports nutrients into the bloodstream using shuttles. There are a limited number of shuttles and a limited number of absorption sites, so it's important to deliver nutrients at the right rate for complete absorption.
Isotonix® products have been carefully formulated to clear your stomach at a fast and controlled rate, for maximum absorption of the nutrient-dense solution. And Isotonix® are buffered to resist degradation by stomach acid and to be gentle on your system. It is the most scientifically advanced nutrient delivery system in the world.
FAQs
---
What is included in each packet of the Isotonix Daily Essentials Packets?
Each packet contains one capful each of Isotonix OPC-3, Isotonix Multivitamin, Isotonix Activated B-Complex, and Isotonix Calcium Plus.
Who should take these packets? Why are they so great?
Isotonix Daily Essentials Packets are made for every adult who wants to make the right nutritional choices towards health, one day at a time. With the convenience of 30 single serving packets, you can take them on-the-go each day and move closer to a healthier lifestyle, one step at a time. Great for busy people! Great for travel!
We no longer have to put things off when it comes to our nutrition, even with our busy lives. Starting today means feeling better tomorrow. Start today with our Isotonix Daily Essentials Packets! Don't leave home without it!
Why are Isotonix supplements better than standard supplements?
Isotonix formulas are more effective than standard supplement formulas because they offer the best way to get the maximum delivery of vitamins and minerals into the bloodstream. Isotonix formulas are also one of the fastest and most effective way to receive vitamins, minerals and nutrients. The stomach has very little work to do because the pH and tonicity are carefully designed to allow the stomach to quickly release all the nutrients into the small intestine. With the Isotonix formulas, this process takes about five minutes, where a standard vitamin tablet can take up to four hours.
What sets Isotonix OPC-3 apart from other bioflavonoid products?
This science-driven selection of OPCs is unique to Isotonix OPC-3, as is the Isotonix delivery system, which enables rapid and highly efficient absorption of the OPCs. The potent nutrients, in combination with the highly effective delivery system, makes Isotonix OPC-3 the most powerful free-radical-scavenging product available.
Why do I need to take a multivitamin?
A good quality vitamin and mineral supplement creates a sound micronutrient foundation to accompany a balanced diet and aid in the maintenance or improvement of general well-being. Everyone over the age of 18 would find it beneficial to enhance their diet with Isotonix Multivitamin. Eating a balanced diet is always the ideal, however supplements are handy tools when it is difficult to consume the right amounts of vitamins and minerals on a daily basis.
What does "Activated" refer to in Isotonix Activated B-Complex?
Activated refers to the active forms of vitamins B6, B12 and folate. Using forms other than these activated forms requires that the vitamins be enzymatically activated prior to utilisation by the body. Not only does this take time and energy within the body, there are circumstances in which this reaction is either slowed or inhibited.
Why should I take calcium?
Everyone needs calcium. Practically no one ingests enough calcium in their daily diet. Besides being helpful in supporting and maintaining normal bones and teeth, calcium serves a dynamic role as a mineral. It's very important in the normal activity of digestive enzymes and maintaining normal energy-yielding metabolism. Calcium also contributes to normal muscle function.
I am healthy and athletic, why should I take Isotonix OPC-3?
Everyone is vulnerable to the aging process caused by continuous free radical damage. Athletes tend to be exposed to elevated levels of oxidative stress. Free radicals develop as by-products during metabolism when calories are processed with oxygen. Athletes inhale 10 to 20 times more oxygen during physical activity over rest periods. The increase in activity creates additional free radicals. In fact, these free radicals are known to limit performance, as free radicals appear to take their toll on muscle tissue. The antioxidant and circulatory benefits of OPCs may therefore be a benefit to athletes.
Are there any warnings or contraindications for the products in the Isotonix Daily Essentials Packet?
Isotonix OPC-3, Isotonix Multivitamin, Isotonix Activated B-Complex and Isotonix Calcium Plus are vegetarian products and contains no wheat, gluten, soy, yeast, artificial flavour, starch, salt, preservatives or milk. If you are currently using any prescription drugs, have ongoing medical condition, or if you are pregnant or breastfeeding, you should consult your healthcare provider before using these product. Contains iron. Keep out of the reach and sight of children as overdose may be fatal.
TLS Product Reviews
---
Displaying reviews 1 - 5 of 135
---
I can't live without this product! It gives me energy for a whole day. I never feel better since I start taking them.
---
Daily Essential I would recommend to anyone. I never was a morning person, but soon I started my first week with Daily Essential I started to feel difrence. Felt energetic enough, happy + amazing taste 👌
---
This stuff is great, tastes good, doesn't have that horrible chemical after taste. Definitely recommended to people who need an extra boost, especially in difficult times as we live in right now. Can't live without it!
---
These are really my daily essentials! I've been taking it for a few years and never go a day without it!
Response from Customer Service:
26/4/2021
Dear Valued Customer,

Thank you for taking the time to share your thoughts on the Isotonix Daily Essentials Packets! We are happy to hear you are pleased with the product!

Thank you again!
The Product Information Team
---
This supplement mix provides a great jolt of sustained energy and is a really good way to start off my day! A truly fantastic product.
Response from Customer Service:
26/4/2021
Dear Valued Customer,

Thank you for taking the time to share your thoughts on the Isotonix Daily Essentials Packets! We are happy to hear you are pleased with the product!

Thank you again!
The Product Information Team