Isotonix Vitamin D3 with K2
FEATURED RECOMMENDATIONS
Benefits
---
Normal absorption and utilisation of calcium and phosphorus
Normal blood calcium levels
The maintenance of normal bones, normal muscle function and normal teeth
Normal function of the immune system
The process of cell division
Normal blood clotting

Product Classifications
---
Gluten-Free - The finished product contains no detectable gluten (<10ppm gluten)
No Detectable GMOs - The finished product contains no detectable genetically-modified organisms
Vegetarian - This product is vegetarian
Isotonic-Capable Drinkable Supplements - Easy-to-swallow supplements in liquid form are immediately available to the body for absorption
Quality Standards - GMP Operations and Standardised Ingredients
Checked For: Heavy Metals, Microbiological Contaminants, Allergens, Potency, Purity and Identity
Why Choose Isotonix Vitamin D3?
---
Isotonix Vitamin D3 with K2 contains vitamin D3, the metabolically active form of Vitamin D, along with Vitamin K2, which supports normal blood clotting and bone health. Isotonix Vitamin D3 with K2 is the first of its kind to combine both of these powerful vitamins with isotonic delivery, helping to maintain normal bones, muscle function and teeth. In addition, these vitamins work together to maintain the body's normal absorption of calcium and phosphorus, as well as contribute to the normal function of the immune system, and the process of cell division. Vitamins D3 and K2 are paired together in Isotonix Vitamin D3 with K2, because they work synergistically to support normal bone health. Two of the more common forms of vitamin K are K1 and K2. While there are many similarities between these two forms of vitamin K, they can be distinguished by their important differences, the most significant being their differing pharmacokinetic properties. Vitamin K1 disappears rapidly from the blood, while vitamin K2 persists in the blood's circulation for a longer time.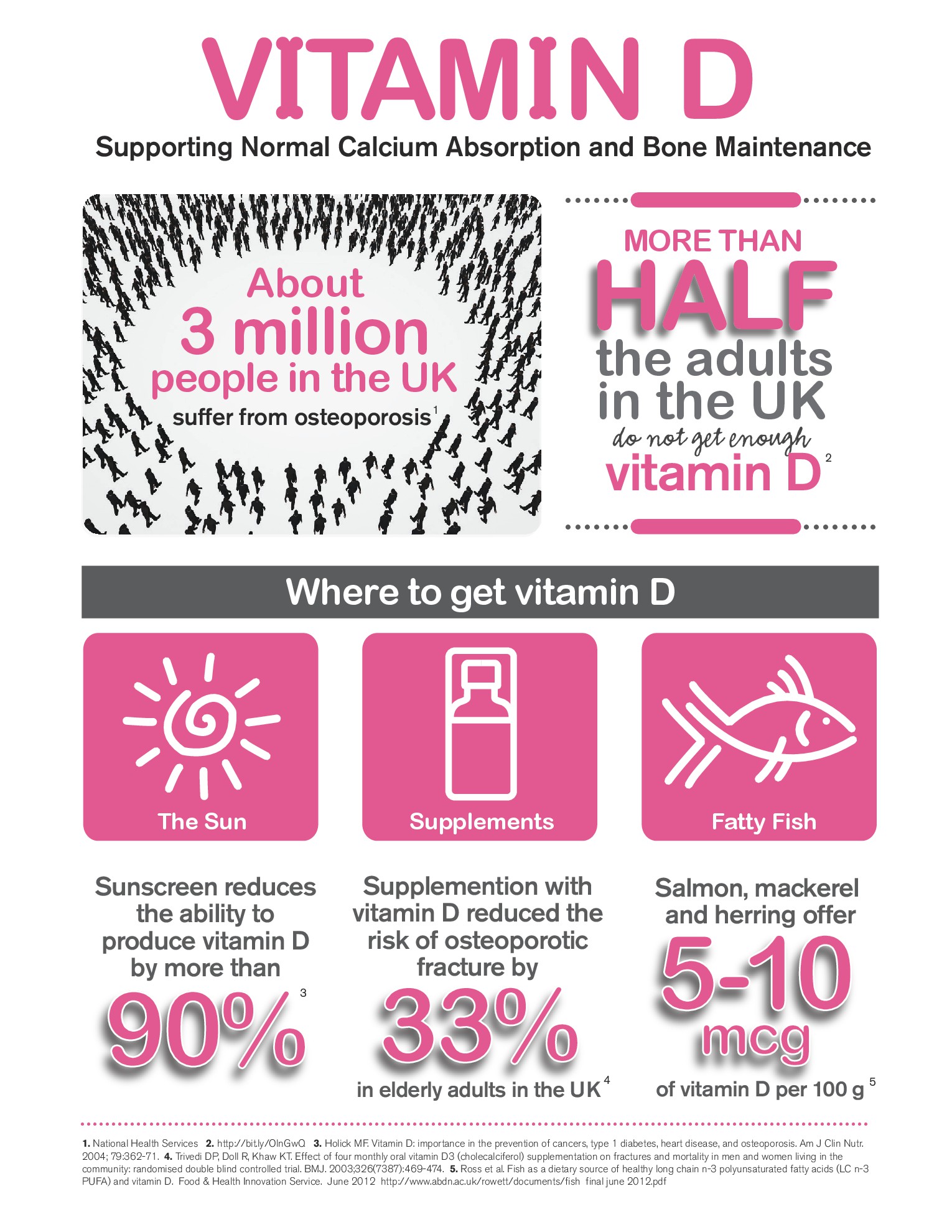 Isotonix Delivery System
---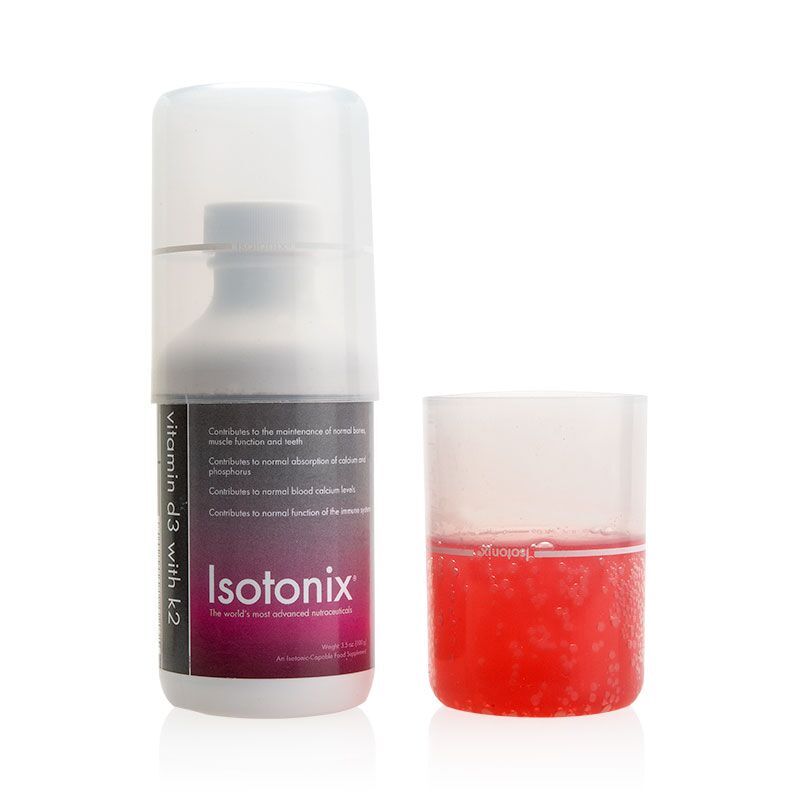 Isotonix - the World's Most Advanced Nutraceuticals
Isotonic, which means "same pressure," bears the same chemical resemblance of the body's blood, plasma and tears. All fluids in the body have a certain concentration, referred to as osmotic pressure. The body's common osmotic pressure, which is isotonic, allows a consistent maintenance of body tissues. In order for a substance to be absorbed and used in the body's metabolism, it must be transported in an isotonic state.

Isotonix dietary supplements are delivered in an isotonic solution. This means that the body has less work to do in obtaining maximum absorption. The isotonic state of the suspension allows nutrients to pass directly into the small intestine and be rapidly absorbed into the bloodstream. With Isotonix products, little nutritive value is lost, making the absorption of nutrients highly efficient while delivering maximum results.
Ingredients
---
Vitamin D3 (Cholecalciferol)
Vitamin D is a fat-soluble vitamin that occurs naturally in some foods like fish and eggs and is present in fortified foods such as milk and orange juice. Vitamin D is also produced by the body when sunlight strikes the skin, activating vitamin D synthesis. Vitamin D promotes the efficient absorption of calcium and promotes the normal formation, growth and remodelling of bone.
Vitamin D deficiency can be caused by factors such as lack of exposure to sunlight, reduced skin synthesis of vitamin D, lower dietary intake, impaired intestinal absorption and reduced metabolism to active forms of vitamin D. Factors contributing to Vitamin D deficiency increase with age. Deficiency has been linked to numerous health concerns; insufficient levels of this vitamin are associated with frail bones and muscle weakness.

Vitamin K2
Vitamin K is a fat-soluble vitamin found in meat, eggs, dairy and natto. Although it is a fat-soluble vitamin, the body stores very little vitamin K at any given time and without regular dietary intake the body's store of Vitamin K can be rapidly depleted. Natural vitamin K2, also known as menaquinone-7 (MK-7), appears to be more bioavailable and has a longer half-life in the blood than vitamin K1. The Japanese soy-based food natto is particularly rich in menaquinone-7 (MK-7). Studies of natto consumption in Japan have linked menaquinone-7 to bone and cardiovascular health.
FAQ
---
Why are vitamins K and D included in Isotonix Vitamin D3 with K2?
Vitamins K and D work together to support the maintenance of normal bones. Vitamin D also contributes to the maintenance of normal muscle function and normal functioning of the immune system.
Is Isotonix Vitamin D3 with K2 safe for people on anti-coagulant medications?
Some studies have suggested that vitamin K2 does not interfere with anticoagulant medications. However, most products containing vitamin K (including K1 and/or K2) warn users taking anticoagulants not to use the product. If you are currently taking anticoagulant medication, you should consult your physician before taking any product containing vitamin K1 or K2.
How do I take Isotonix Vitamin D3 with K2?
Pour 1 level bottle capful of powder into the overcap. Add water to the line on the overcap (2 fl. oz./60 ml) and stir. Take once daily or as directed by your healthcare provider. Maximum absorption occurs when taken with a meal. This product is isotonic only if the specified amounts of powder and water are used.
Is it safe to take more than 1 serving of this product daily?
One serving daily of Isotonix Vitamin D3 with K2 is recommended. Check with your healthcare provider before taking additional daily servings of this product.
Is there a toxicity level for vitamin D?
The recommended daily tolerable upper intake limit for vitamin D is 2,000 IU. If you wish to take more than one daily serving of this product, you should check with your physician.
What are dietary sources of vitamin D?
Foods naturally rich in vitamin D include cod liver oil, salmon, mackerel, tuna and eggs.
Science
---
Argiles A et al. Blood pressure is correlated with vitamin D(3) serum levels in dialysis patients. Blood Purification. 20(4):370-375, 2002.
Bekner K. The vitamin K-dependent carboxylase. Journal of Nutrition. 130(8):1877-1880, 2000.
Binkley N et al. Vitamin K nutrition and osteoporosis. Journal of Nutrition. 125(7):1812-1821, 1995.
Bischoff-Ferrari Het al. Fracture prevention with vitamin D supplementation: a meta-analysis of randomized controlled trials. JAMA. 293(18):2257-2264, 2005.
Buitenhuis HC, Soute BAM, Vermeer C. Comparison of the vitamins K1, K2, and K3 as cofactors for hepatic vitamin K-dependent carboxylase. Biochem Biophys Acta 1990; 1034:170-175.
Chapuy M et al. Vitamin D3 and calcium to prevent hip fractures in the elderly women. New England Journal of Medicine. 327(23):1637-1642, 1992.
Garber, A. K., et al. Comparison of phylloquinone bioavailability from food sources or a supplement in human subjects. Journal of Nutrition. 129(6):1201-1203, 1999.
Grant W and Holick M. Benefits and requirements of vitamin D for optimal health. Alternative Medicine Review. 10:94-111, 2005.
Guirguis-Blake J et al. Oral vitamin D3 decreases fracture risk in the elderly. Journal of Family Practice. 52(6):431-435, 2003.
Gundberg C et al. Vitamin K status and bone health: an analysis of methods for determination under carboxylated osteocalcin. Journal of Clinical Endocrinology and Metabolism. 83(9):3258-3266, 1998.
Hidaka T et al. Treatment for patients with postmenopausal osteoporosis who have been placed on HRT and show a decrease in bone mineral density: effects of concomitant administration of vitamin K(2). Journal of Bone and Mineral Metabolism. 20(4):235-239, 2002.
Hiruma Y et al. Vitamin K(2) and geranylgeraniol, its side chain component, inhibited osteoclast formation in a different manner. Biochemical Biophysical Research Communications. 314(1):24-30, 2004.
Iwamoto J et al. Treatment with vitamin D3 and/or vitamin K2 for postmenopausal osteoporosis. The Keio Journal of Medicine. 2003 Sep;52(3):147-50. Review.
Iwamoto J et al. Effects of vitamin K2 on osteoporosis. Current Pharmaceutical Design. 10(21):2557-2576, 2004.
Kameda T et al. Vitamin K2 inhibits osteoclastic bone resorption by inducing osteoclast apoptosis. Biochemical and Biophysical Research Communications. 220(3):515-519, 1996.
Knapen M et al. Vitamin K2 supplementation improves hip bone geometry and bone strength indices in postmenopausal women. Osteoporosis International. 18(7):963-72, 2007.
Li Y et al. 1,25-Dihydroxyvitamin D(3) is a negative endocrine regulator of the renin-angiotensin system. Journal of Clinical Investigation. 110(2):229-238, 2002.

Li Y et al. Vitamin D regulation of the renin-angiotensin system. Journal of Cell Biochemistry. 88(2):327-331, 2003.
Li Y et al. Vitamin D: a negative endocrine regulator of the renin-angiotensin system and blood pressure. Journal of Steroid Biochemistry and Molecular Biology. 89-90(1-5):387-392, 2004.
Nelsestuen G et al. Vitamin K-dependent proteins. Vitamins and Hormones. 58:355-389, 2000.
Neogi, T., et al. Low vitamin K status is associated with osteoarthritis in the hand and knee. Arthritis and Rheumatism. 54(4):1255-1261, 2006.
Pfeifer M et al. Effects of a short-term vitamin D(3) and calcium supplementation on blood pressure and parathyroid hormone levels in elderly women. Journal of Clinical Endocrinology and Metabolism. 86(4):1633-1637, 2001.
Plaza S and La
Price P. Role of vitamin K-dependent proteins in bone metabolism. Annual Review of Nutrition. 8:565-583, 1988.
Schaafsma, A., et al. Vitamin D3 and vitamin K1 supplementation of Dutch postmenopausal women with normal and low bone mineral densities: effects on serum 25-hydroxyvitamin D and carboxylated osteocalcin. European Journal of Clinical Nutrition. 54:626-631, 2000.
Schleithoff S et al. Vitamin D supplementation improves cytokine profiles in patients with congestive heart failure: a double-blind, randomized, placebo-controlled trial. American Journal of Clinical Nutrition. 83(4):754-759, 2006.
Shearer M. Role of vitamin K and Gla proteins in the pathophysiology of osteoporosis and vascular calcification. Current Opinion in Clinical Nutrition and Metabolic Care. 3(6):433-438, 2000.
Shearer MJ, Newman P. Metabolism and cell biology of vitamin K. Thromb Haemost 2008; 100:530-547.
Shiraki, M., et al. Vitamin K2 (menatetrenone) effectively prevents fractures and sustains lumbar bone mineral density in osteoporosis. Journal of Bone & Mineral Research. 15:515-522, 2000.
Schurgers LJ, Teunissen KJF, Hamulyak K, Knapen MHJ, Vik H, Vermeer C. Vitamin K-containing dietary supplements: comparison of synthetic vitamin K1 and natto-derived menquinone-7. Blood 2007; 109:3279-3283.
Sigmund C. Regulation of renin expression and blood pressure by vitamin D (3). Journal of Clinical Investigation. 110(2):155-156, 2002.
Taira H et al. Menatetrenone (vitamin K2) acts directly on circulating human osteoclast precursors. Calcified Tissue International. 73(1):78-85, 2003.
Trivedi Det al. Effect of four monthly oral vitamin D3 (cholecalciferol) supplementation on fractures and mortality in men and women living in the community: randomised double blind controlled trial. British Medical Journal. 326(7387):469, 2003.
Van den Berghe G et al. Bone turnover in prolonged critical illness: effect of vitamin D. Journal of Clinical Endocrinology and Metabolism. 88(10):4623-4632, 2003.
Vasquez A et al. The clinical importance of vitamin D (cholecalciferol): a paradigm shift with implications for all healthcare providers. Alternative Therapies. 10(5):28-38, 2004.
Weber P. Management of osteoporosis: is there a role for vitamin K? International Journal for Vitamin and Nutrition Research. 67(5):350-6, 1997.
Zitterman A et al. Low vitamin D status: a contributing factor in the pathogenesis of congestive heart failure? Journal of the American College of Cardiology. 41(1):105-112, 2003.

TLS Product Reviews
---
Displaying reviews 1 - 3 of 3
---
Since I started to take Isotonix vit D3 plus K2, I have noticed huge difference in my body.
My nails looks amazing and I have got more energy.
My all family is on it and we are all feel the difference.
I would strongly advise to add this product to your as a supplement as this will change your life.
---
The Vitamin D3 with K2 for Everyone!
💞 this product, used in conjunction with food, works at it's optimal level.
I feel my immune system is so well protected with this product!
It's delivery into my system is second to none!💞

---
Isotonix vitamin D3 with K2
Love the taste, very refreshing, you can feel it working as soon as you consume it